"The soul is consciousness. &nbsp
It shines as the light within the heart."

Brihandaranyaka Upanishad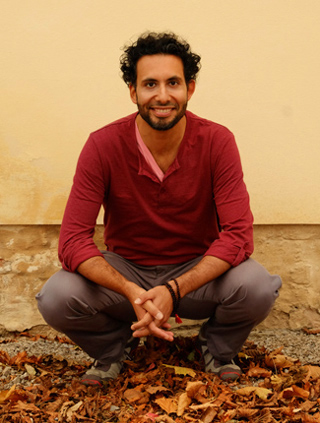 Siawasch Peyman
born 1976 in Vienna
Physical expression, dance, rhythm and joyful movement have had a deep impact on my way to yoga and nuad.
As a performance member of the movement theater group "vis plastica trans. gen." for seven years my body awareness increased intensely and has been complemented with more than 15 years of capoeira practice. Performances around the world brought me to Thailand and put me in touch with nuad.
It was like getting back to something, that felt very familiar. In 2005 I finally received my official inauguration into the art of Nuad at the Wat Pho temple in Bangkok.
According to my education as a certified social pedagogue, I have been providing psychological support for young people with mental or behavioural problems for about 9 years. Besides this activity I offered lessons for capoeira, pilates and yoga, and started to give nuad.
Coming into contact with yoga from time to time, a journey to India has been a turning point in my life in 2012.
Through establishing a daily yoga practice and theory studies, I experienced the transformative potential of Yoga and came closer to the roots of nuad as well.
I want to support people by getting in touch with their very own essence. I assist my clients in adopting new perspectives and hence recover or gain new strenght.
It is always a privilege to be part of this process and to witness, how peoples personal potential comes to unfold.